About us
Kingsgrove Chinese serves the most authentic Chinese food in the Kingsgrove area. Our dishes are made from the freshest and most flavourful ingredients. Our menu is a wide array of delicious Chinese dishes such as Mongolian Lamb, Chicken Sang Choy Bow, Sesame Prawn Toast, Fried Crispy Skin Chicken, Honey Chicken, Fried Rice, Sweet and Sour Pork, Beef with Black Bean Sauce, Peking Duck, Black Pepper Chicken, Steam Whole Fish, Teriyaki Chicken, Singapore Chilli King Prawns, Lamb Pancake, Satay Sticks Chicken and many more. We are located at 270 Kingsgrove Road, Kingsgrove NSW. We offer delivery, dine in, pickup and online ordering services daily.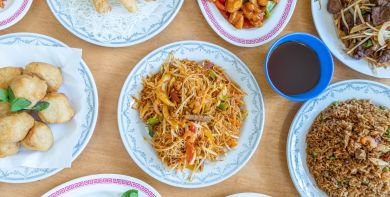 Reviews
CLAIRE
"Amazing food! Fresh and hot. Highly recommend"
16/02/2020
Clare
"Food is always good & delivery is always good, usually comes earlier that that the estimated given time The delivery drivers are always so friendly & take care with your food"
7/02/2020
Veronica
"Amazing food and amazing service, always very quick to deliver and the food is hot and fresh."
7/02/2020
Dawn
"The food was delivered hot and the delivery person wa polite and pleasant"
5/02/2020